Upcoming Events
Click the categories below to explore upcoming workshops and special events.
Love Skills:
A Virtual Class for Couples
with Linda Carroll
and Deb Lyman for the Enneagram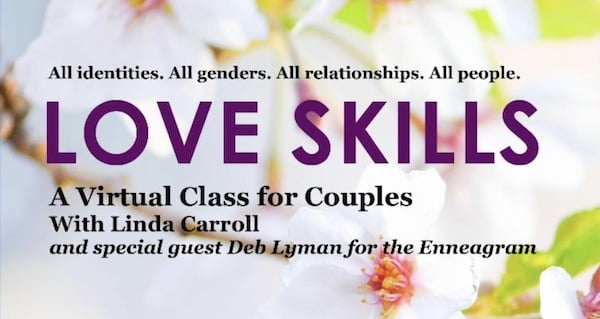 From Conflict to Connection:
Actionable relationship practices
bringing quick results.
Mondays, 5 - 6 pm PST
September 13 - November 8, 2021
Available from ANYWHERE.
---

The Love Cycles 
An Introduction
Our new Love Cycles program includes:
Part 1: The Introductory Weekend
Part 2: Deepening
Part 3: From Conflict to Real Connection
The program is a journey we will take together that will teach you the wisdom and practical skills to create a long-lasting and deeply satisfying relationship. It is an educational experience that will provide you with new, evidence–based ways to enhance your relationship.
Click HERE for the Intro
---