Upcoming Events
Click the categories below to explore upcoming workshops and special events.

The Love Cycles
An Introduction
Our new Love Cycles program includes:
Part 1: The Introductory Weekend
Part 2: Deepening
Part 3: From Conflict to Real Connection
The program is a journey we will take together that will teach you the wisdom and practical skills to create a long-lasting and deeply satisfying relationship. It is an educational experience that will provide you with new, evidence–based ways to enhance your relationship.
Click HERE for the Intro
---

Love Skills
Weekend Program for Couples
with Linda Carroll, Deb Lyman & Dave Long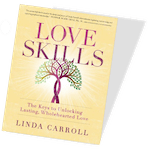 April 17 - 19, 2020
Corvallis, OR
Experience a deep-dive into the issues of:
The truth about unconditional love
The loss of sexual energy and how to get it back
Managing defensiveness
Personal values and how to bridge the differences
---

Love Skills at the Ranch
Week Intensive
with Linda Carroll
May 30 - June 6, 2020
at Rancho La Puerta
Revitalization Class: In celebration of my new book, Love Skills, which will be published on February 14, 2020, I am offering a week-long couples revitalization class, an extension of the Love Cycles program.
---
•
---