Upcoming Events
Click the categories below to explore upcoming workshops and special events.

Love Skills: A Virtual Class for Couples
with Linda Carroll and special guest Deb Lyman for the Enneagram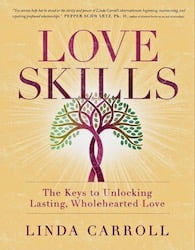 A Virtual Class for Couples

Sundays, 4 - 5pm
June 28 - August 9, 2020
From Anywhere
"This is going to be a period of great growth for relationships. Couples are either going to grow together or grow apart. Therapists love to advise couples to create quality time for themselves, and now we have more of it than ever. Use it wisely—and positively."
—Helen Fisher, author
---

Love Skills at the Ranch
Contact Linda HERE for information.
Week Intensive
with Linda Carroll
May 30 - June 6, 2020
Due to the COVID-19 crisis,
we have postponed this to a time in the future.
Revitalization Class: In celebration of my new book, Love Skills, published on February 14, 2020, I am offering a week-long couples revitalization class, an extension of the Love Cycles program.
---

The Love Cycles 
An Introduction
Our new Love Cycles program includes:
Part 1: The Introductory Weekend
Part 2: Deepening
Part 3: From Conflict to Real Connection
The program is a journey we will take together that will teach you the wisdom and practical skills to create a long-lasting and deeply satisfying relationship. It is an educational experience that will provide you with new, evidence–based ways to enhance your relationship.
Click HERE for the Intro
---