"To be wholehearted, then, is to know we won't arrive; we won't cross a bridge and finally 'get there.' Paradoxically, that's what creates wholeness — our acceptance that perfection is beyond our reach. The gift we gain through the daily practice of love is to be more wholly present in each moment and to open ourselves to all of life with a full heart. The love that blossoms is real."from Love Cycles
About Linda
I grew up in San Francisco during the 1950s and came of age during the countercultural 1960s. From my more traditional childhood, I preserve a faith in the importance of service, mystery, and reverence for all forms of life. From my early flower-child leanings, I've maintained a belief in looking "outside the box" for approaches to healing.
I hold a deep-seated certainty that love can set us free, once we discover how to remove the obstacles that stand in its way. This process may not be as quick or simple as the songs and clichés suggest, but I believe that love—for ourselves and for others—dwells within each of us. Our primary task is to contact it, nurture it, and bring it more fully into our lives.

I hold a master's degree in counseling and have practiced psychotherapy since 1981. I completed coach training through the Institute for Life Coach Training in 2017, a curriculum that is certified by the National Board for Certified Counselors. I am an IMAGO therapist and, along with the many certificates I have, I've also completed Level 2 Training in Gottman Method Couples Therapy and have integrated Gottman Method Couples Therapy with other Love Skills in my teaching and private work.
I have authored two books on relationships. Love Cycles: The Five Essential Stages of Lasting Love was published by New World Library in 2014. My latest book, Love Skills, a companion book to Love Cycles, has been published by New World Library.
---

Linda in the Media: Radio Interview & Podcasts
Recently, Linda spoke with students at
Carnegie Mellon University via Zoom.
Watch her heartwarming talk HERE.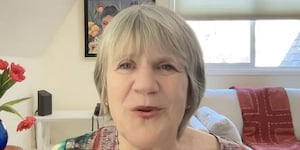 Listen to Jordan Harbinger's new, insightful podcast with Linda, including how to best deal with what happens when your partner forgets to buy the spinach.

In this refreshing episode of the popular podcast, Linda and host Jordan Harbinger explore relationships and What to Do When Good Chemistry Goes Bad.

Linda speaks with podcast host Sandy Fowler to discuss the stages of a relationship and to share skills for better communication and stronger bonds.